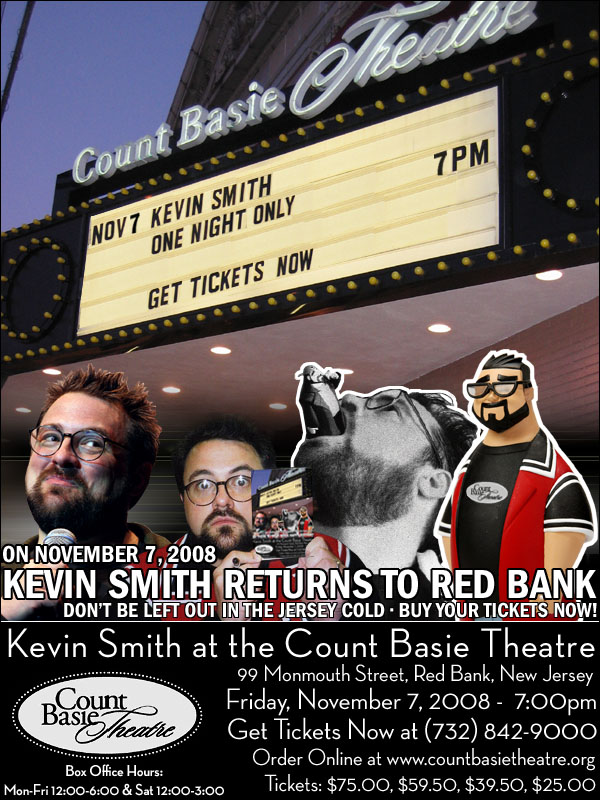 Kevin Smith returns to Red Bank:
November 7, 2008 - 7:00pm
Orders Tickets Now at (732) 842-9000
or Online Right Here.
Tickets: $75.00, $59.50, $39.50, $25.00
Ever wonder what actor, writer, producer, director, editor and Monmouth Count native Kevin Smithıs top 5 favorite movies are? This is your big chance! Celebrate the re-opening of the Count Basie Theatre after being closed for interior renovations this summer with a no-holds-barred Q&A with the audience. For the uninitiated, Smith is the local native whose films include Clerks (1994), which won the highest award at the Sundance Film Festival; Mallrats (1995); Chasing Amy (1997), which won two Independent Spirit Awards for Best Screenplay and Best Supporting Role; Dogma (1999); Jay and Silent Bob Strike Back (2001); Jersey Girl (2004); and Clerks II (2006). Heıs also an award winning comic book writer; a film school drop out; an Honorary Doctor of Humane Letters (Illinois Wesleyan University, 2000); owner of his own comic book store (Jay & Silent Bobıs Secret Stash in Red Bank) and his own production company (ViewAskew), and he makes short films for the Jay Leno show. His new movie, 'Zack and Miri Make a Porno,' is set for release just a week earlier, so this could be a very interesting and timely dialogue!
The Details:
Date:
Friday, November 7, 2008
Time:
7:00pm
Location:
The Count Basie Theatre
99 Monmouth Street
Red Bank, NJ 07701
Seating:
Seating is divided up into Center orchestra, Side Orchestra, the balcony and the upper balcony. Your seating assignment will be based on ticket price (see below).
Please see The Count Basie Theatre's seating chart here.
Getting to the Count Basie Theatre:
Directions and maps are available here
How to get tickets:
Tickets for this event are sold through the Count Basie Theatre box office at (732) 842-9000 or online at http://www.countbasetheatre.org and are priced as follows:
$75.00
$59.50
$39.50
$25.00