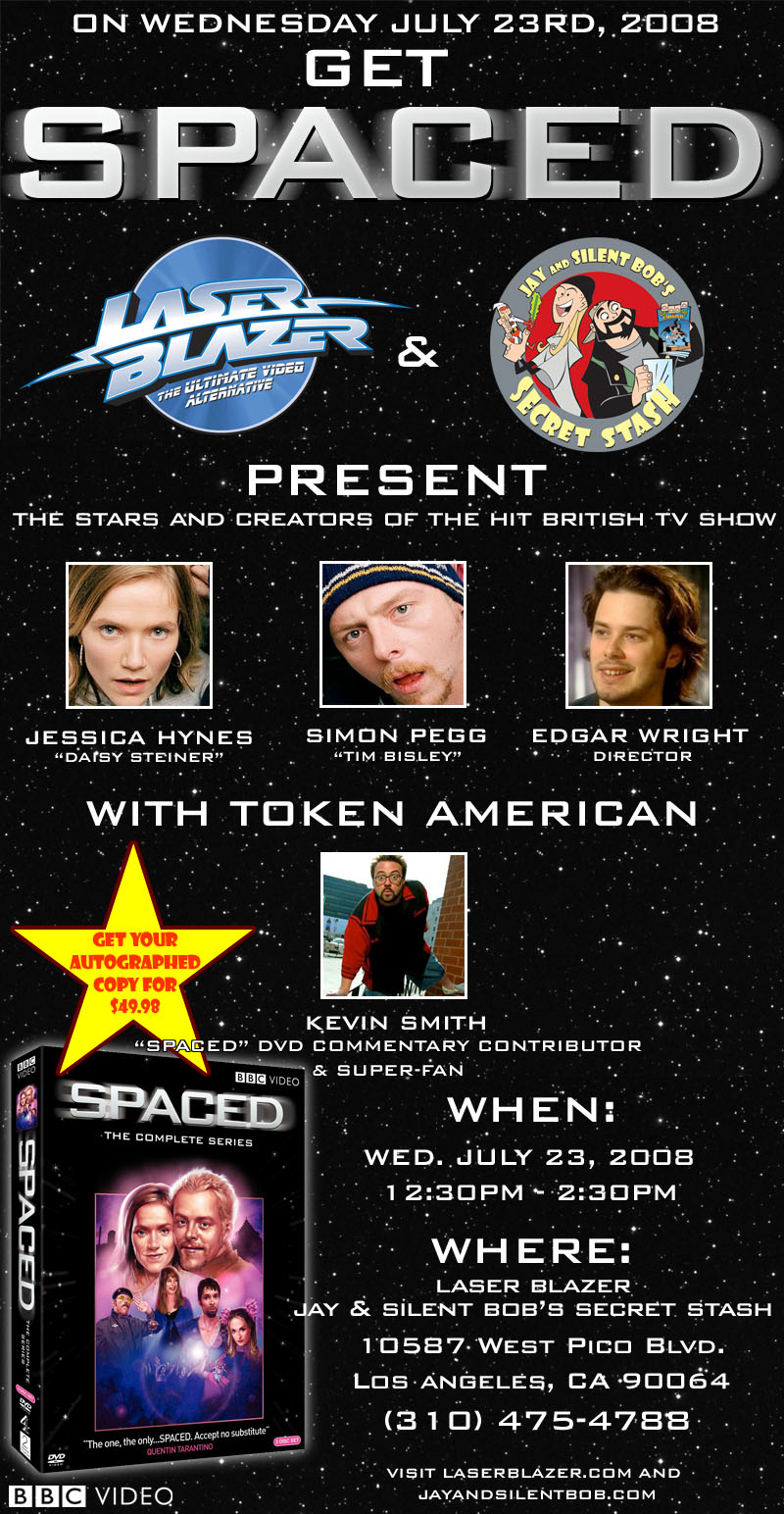 Get SPACED with Jessica Hynes, Simon Pegg, Edgar Wright and Token American Kevin Smith!

The Details:
Date:
Wednesday July 23, 2008
Time:
12:30pm - 2:30pm
Location:
Laser Blazer/Jay & Silent Bob's Secret Stash
10587 West Pico Blvd.
Los Angeles, CA 90064
(310) 475-4788
(Limited amount of parking in the back of the store)
Info:
Spaced DVD retail price $59.98. Laser Blazer in-store price $49.98.
DVD features include:
Exclusive feature length documentary.
"Spaced Jam" music video by Osymyso.
Commentary with stars Simon Pegg, Jessica Hynes, Nick Frost, Mark Heap, Julia Deakin, Katy Carmichael, director Edgar Wright, producer Nira Park, Plus guests Kevin Smith, Quentin Tarantino, Matt Stone, Diablo Cody, Bill Hader, and Patton Oswalt!
Footage from the UK Spaced marathon's Q & A session
Homage-O-Meter that tracks every pop culture reference!
Out-takes, raw footage, deleted scenes, and more!
Spaced revolves around two idle twentysomething flatmates - immature skateboarding would-be comic artist Tim (Simon Pegg), and moody, responsibility-shy Daisy (Jessica Stevenson), and their self-induced lack of success in employment, relationships and life in general. Together with their oddball assortment of friends and neighbors, Marsha, Brian, Mike and Twist, they exist in a world perched precariously on the edge of normality.
Spaced DVD must be purchased at Laser Blazer to participate in the signing.
The line may be capped at any time. PLEASE ARRIVE EARLY!!
No more than three items signed per customer.