---
---
FreakGoddess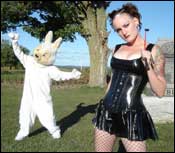 Name: Michelle
Age: 27
Location: Toronto, ON
Occupation: Claims Adjuster
Bio: Weirdo from Toronto who aspires to be a dancer in music videos. I spend my time working on my website, gaming, and finding new places to pierce on my body. I am a graduate of Humber College with a Social Work degree but work in the Insurance field as an adjuster. I grew up with famous Canadian bands around me all the time as my dad was a Road Manager for one. In the past I have done Dominatrix work, been a go-go dancer, designed websites for famous wrestling radio shows and bars in Toronto. Now, I'm just boring :)
Favorites
Actors: Al Pacino, Kevin Spacey, Crispin Glover, Gillian Anderson.
Books: Anything by Stephen King, The Thief of Always by Clive Barker.
Films: Labyrinth, Cannibal the Musical, Velvet Goldmine.
Hobbies: Video Games, digital art, fetish photography, body modification.
Links: http://www.rosegardenofwhores.com; www.bmezine.com
Music: Punk, Ska and Industrial.
Quote: "Learn how to spell."
TV Show: Six Feet Under.
VA Flick: Chasing Amy.