---
---
Gabe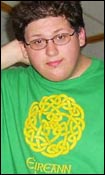 Name: Gabe
Age: 19
Location: South Carolina.
Bio: I've been posting for almost three years now. I had seen all of Kevin's films except for Amy when I started working at a video store with my friend Shawn. He was a fan of Kevin's and so was I (I just didn't realize it at the time). We started talking about Kev's movies and he told me I should watch Chasing Amy; it quickly became my favorite. I went out shortly after seeing Amy and bought them all on DVD; it wasn't long until I was a huge fan of View Askew in general.
Favorites
Actors: Ed Norton, Kevin Spacey, Jason Lee, Ben Affleck, Christopher Walken, Tim Robbins, etc.
Bands: Flogging Molly, Dropkick Murphys, Less Than Jake, The Vandals, The Bosstones, Anti Flag, Bad Religion, Tenacious D, The Pogues, Sublime, Weezer, No Talent Show, etc.
Films: The Shawshank Redemption, Primal Fear, American History X, The Godfather, Braveheart, Almost Famous, Full Metal Jacket, Goodfellas, Good Will Hunting, etc.
Hobbies: I play bass, go to punk shows, and love discovering small local bands. I also like to write, I'm working on revising a screenplay I wrote a year or so ago. I enjoy reading as well; I'm a big fan of historical non-fiction, true crime, philosophical, and I'm starting to get in to Chuck Palahniuk. I could only see Virgo mention the guy so many times before I had to give him a shot. My favorite book to date is probably The Gospel According to Larry by Janet Tashjian.
Links: http://gabe.blog-city.com
VA Flick: Chasing Amy with A Better Place running a very close second.
| | |
| --- | --- |
| | |
| | Uber Produzent |
| | dr_g_wiggles |