---
---
JustinCredible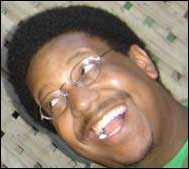 Name: Jaemeel
Age: 23
Location: The Mean Streets Of Brampton (Ontario, Canada)
Occupation: Gentleman of Lesuire/ Web Designer
Favorites
Books: "Out of Sight' by Elmore Leonard, 'Spectacular Spiderman #200' by J.M. DeMatteis & Sal Buscema, 'Strangers In Paradise' by Terry Moore, 'Revolutionary Girl: Utena' by Chiho Saito & The Be-Papas, 'Imzadi' by Peter David.
Films: 'Rio Bravo', 'Batman Returns', 'Revolutionary Girl: Utena', 'Ocean's 11 (2001)' (but ended exactly after the waterfall scene), 'Out Of Sight', 'Dick Tracy'.
Hobbies: Anime, Sci-Fi, Comics, Movies, Mystery Books, Gaming, Wrestling, Basketball
Music: David Holmes stuff, Lounge, Eurobeat, almost anything else.
Quote: "SAUSAGE!!!!"
TV Show: 'The Cosby Show', 'Married... With Children', 'Wonderfalls', 'Bufy:TVS', 'Reboot', 'Lost', 'Star Trek:TNG', 'Revolutionary Girl: Utena'.