---
---
Macca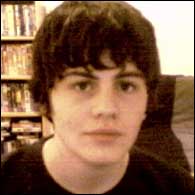 Name: Michael Jordan
Birthdate: June 14th, 1988
Interests: Music, Film, Animation (See mine at http://www.badflashproductions .net ), & Sports.
Bio: I'm an easy going guy & I like spending time with my friends & going out at the weekend. I'm very musical, I love to play rugby probably more than lying around watching a film. I like girls that are a lil bit wild I can't really do with shy girls, way too much effort to drag them out of their shell! I hate people who interupt you to talk about themselves. Don't care for mushrooms erm ... or celery for that matter. I play Rugby Union for Bradford Salem RFC. Hooray! I enjoy playing football, tennis & all the usual jazz. As for food pasta & meat all the way! Love spag bol!, steak, lamb, anything like that.
Favorites
Music: Beatles, Kinks, Arctic Monkeys, Jam, Who, Beach Boys, Lennon, Oasis, Libertines, Babyshambles, The Subways, Starsailor, Coldplay, Velvet Underground, Doors, Sex Pistols, Travis & so on. I will drift into other music like I love Motown such as Otis Redding & Marvin Gaye. Erm, Blues is cool, people like B.B. King. What else? Jazz why not bit of Stanley Jordan. Even country can be ok-ish, Johnny Cash is cool in my books. Can't really listen to Niche or that rubbish. Anything that only requires decks & a synthesizer isn't really music 'cos any "spanner" could have made it. Oh i Also play Guitar, Bass and i am conversational on Keyboard.
Movies: Anything By Tarantino, Kubrick or Scorcese, and nearly Anything With De Niro and Christopher Walken. The Deer Hunter, Hamburger Hill, Sin City, Oh and All George A Romero's Films. Big fan of low budget movies like The Warriors, Clerks, Mallrats etc etc. I love Rocky and class it as one of my fave movies of all time.
Games: Pro Evo 5, Final fantasy games and a lot of Rockstar titles. Love the Splinter Cell series. For my Gamecube it has to be Res4 and Mario Kart: Double Dash.
Books: Anything by Martina Cole or James Patterson. Frank Mccourt is cool
too.
Quotes: "I don't like you sucking around bothering our citizens, Lebowski. I don't like your jerkoff name, I don't like your jerkoff face, I don't like your jerkoff behavior, and I don't like you, jerkoff." - The Big Lebowski