---
---
Martin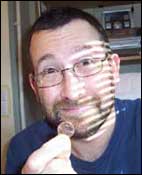 Name: Martin Fleming
Location: Southampton UK
Age: 34
Occupation: CAD Manager
Hobbies: Comics, music, films.
Bio: Well, I've lived in Southampton all my life, lost my Mum to cancer when I was 6 & lost my Dad to Cancer when I was 19. A friend once commented that it was very careless to lose both my parents - which made everyone present gasp with shock but made me laugh! Umm, I own (well kinda - mortgage) my own house, which I live in with the cat, Rastas, and am single, and I think that's about it!
Favorites
VA Flick: Chasing Amy
TV Show: Farscape
Films: Lawrence of Arabia, True Romance, Brazil
Music: The Clash, Faith No More, The Jam
Books: Star Trek: New Frontier, Stephen King, Wild Cards
Quote: "Penny for your thoughts?"
Actors: Christian Slater
Websites: www.americanelf.com