---
---
MyDogmaKickedYourKarma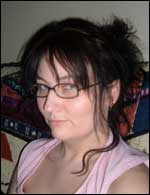 Name: Teena
Location: Sydney, Nova Scotia, Canada
Age: 32
Occupation: Hairstylist and Customer Service Rep
Bio: Hmmmm. Im an open book. You either like me or you don't Im blunt to a fault. But I'll stand by anyone I call a friend. Im divorced, single mother of 3 awesome sons. And I like having fun with friends.
Favorites
VA Flick: Dogma
TV Show: Grays Anatomy, CSI, Miami Ink
Films: Dogma, Dazed and Confused
Music: Large Variety
Books: Harry Potter, DaVinci Code
Quote: Amantes sunt Amentes
Actors: Clive Owen, Bruce Willis
Websites: www.myspace.com
Hobbies: Gym, reading, poetry