---
---
Not THE Kevin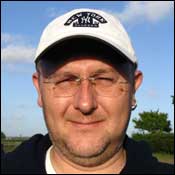 Name: Kevin Horton
Location: Ringwood, Hampshire, England
Age: 41
Occupation: Insurance Broker
Bio: Born London, educated in Bristol. Lived and worked in Bristol before moving to Dorset/Hants in 1993. Divorced in 1999 but found Roz in 2000 and its excellent! We live in a commune with her mum, sister and brother-in-law, 8 cats, 3 rabbits and a guinea pig. Exceedingly happy with my lot in life and working towards getting retired at 50-55, hopefully in the USA probably Florida!
Favorites
VA Flick: J&SBSB
TV Show: It changes but currently enjoying New Tricks and CSI
Films: VA ones (natch), Pump Up the Volume, Hackers and almost all genres except wastes of celluloid like horror and "comedies" with Ben Stiller, Jim Carey, et al.
Music: Loads! Echobelly plus Foo's, Monotype, Nickelback etc., Dont like Dance Music or Opera!
Books: LOTR, plus authors like Laurel K Hamilton, Janet Evanovich, Dick Francis, Bernard Cornwell, Patricia Cornwell and many more.
Actors: Great character ones like Gary Oldman, Jean Reno and Alan Rickman.
Quotes: "This is not a rehearsal, the glass is half full and fuck 'em if they cant take a joke!"
Websites: ESPN, New York Yankees, MaxBashing and Literotica.
Hobbies: Roz, film, music, reading, New York Yankees, West Ham, Mountain Biking, Roller Blading and Radio Controlled Nitro powered off-road Monster Trucks! Plus breathing, big fan of that!
Heroes: Bobby Moore, John Peel, Bill Hicks and Kevin Smith who are people who have great talent and became famous whilst retaining their dignity, and common sense unlike some of the allegedly famous arseholes out there!
| | |
| --- | --- |
| | |