---
---
superslacker87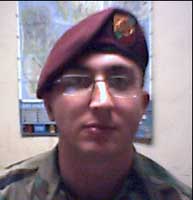 Name: Justin Miller
Location: Fort Bragg, NC
Age: 25
Occupation: Soldier
Bio: Hmm, I'm 25 and I've lived quite a boring life. My proudest accomplishment is watching Mallrats 149 times total (as of April 26th 2005) I am in the Army, and I spend a lot of time watching movies as well as making and finding dumb shit on the Internet.

Favorites

VA Flick: Mallrats.
TV Show: The Simpsons.
Films: All VA flicks.
Music: Christian Rock.
Books: The Lord of the Rings, Hitchiker's Guide to the Galaxy, Harry Potter.
Quote: "You face forward, or you face the possibilty of shock and damage!"
Actors: Jason Lee
Websites: http://superslacker87.blogspot.com, http://slackerrevie w s.blogspot.com
Hobbies: Work, school, computers, video games, etc.