theKiwi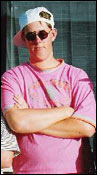 Name: John
Location: Oregon
Age: Early 30's. Feels like 18.
Occupation: Travel industry
Bio: Yeah, that picture was taken in 1990. I was in a rap band called 3 White Men. Me, my friend Craig, and an asian guy named Ben.
Favorites
VA Flick: Chasing Amy
TV Show: Seinfeld. My Name Is Earl
Films: 80's body-swapping comedies.
Music: Old School Rap.
Books: Jeffrey Archer.
Quote: "Cried 2 tears in a bucket. Fuck it. Let's take it to the stage."
Actors: Affleck. Lee. Y'know, the usual.
Hobbies: Travel.