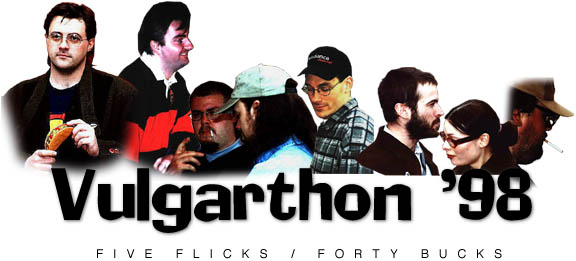 There's no doubt that Vulgarthon 98 was a complete success on paper. The original batch of 270 tickets were sold in less than 2 hours. A second batch sold out less than a day later. There were rumors of scalpers selling single tickets for up to $200. Fans began arriving in Red Bank as early as Saturday January 3rd and promptly began dropping a bundle at the 'Stash. Even more cash was dropped at the liquor stores surrounding the Mariott as the courtyard parties grew near. By all means the fest was a great thing.

Even greater however was how Vulgarthon '98 became a success where it mattered the most, the heart, the mind and the spirit. Fellow board posters met each other face to face for the first time. Rides and hotel arrangements were made between people who had never met in the flesh. Friendships were made and old friends saw each other for the first time in years. To some, the event restored their faith in the goodness of humanity.

The links below reflect the stories and moments in time captured by the fans who sacrificed workdays, paychecks and Christmas money to come to a little central Jersey town called Red Bank. Hopefully they'll tide you over until the next fest. Somehow we doubt that though.





The Stories

Read the experiences and stories of Vulgarthon 98 attendees. Submit your own story or even your most memorable moment(s).





The Articles

Articles mentioning the Vulgarthon phenonmenon including a January 4th article from the Asbury Park Press and a Two River Times article on the event.





Images

Images of the special guests, the attendees and all the moments in between. Browse the available photos or upload your own.





The Attendees

Meet the cast of special guests who made an appearance at Vulgarthon 98 and browse through the VulgarNet attendees database.





The Schedule

Revisit the Janaury 5th schedule of events.
Other Links

[Stories] [Articles] [Images] [Attendees] [Schedule]

[Vulgarthon '98] [View Askew Productions]

Special Thanks to: Scott Benner and Luke Robinson. Photos "borrowed" from Scott Benner and Luke Robinson.