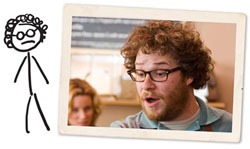 SETH ROGEN (Zack) is today's hottest new comedic actor/writer. After the wild success of last year's comedic hits, KNOCKED UP and SUPERBAD, Rogen, is a genius at the art of bringing taboo sex themes to the surface in his movies. With skill and wit as timely as the Wilson brothers and an oddly sympathetic style similar to that of Ben Stiller, Rogen has accomplished more in his 26 years than many actors do in a lifetime. The Vancouver native honed his skills by starring in character roles in ANCHORMAN: THE LEGEND OF RON BURGUNDY, THE 40 YEAR OLD VIRGIN and the TV series FREAKS AND GEEKS. Prior to that, he was nominated for a Primetime Emmy for his work on DA ALI G SHOW in 2005. He co-wrote PINEAPPLE EXPRESS with his writing partner, fellow Canadian Evan Goldberg. They also wrote SUPERBAD together. He is starring opposite Adam Sandler in Judd Apatow's FUNNY PEOPLE, set for release in Summer 2009.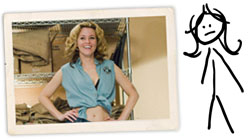 ELIZABETH BANKS (Miri Linky) is one most versatile actresses of her generation. Easily moving between comedy and drama, Banks diverse credits include WET HOT AMERICAN SUMMER, SEABISCUIT, HEIGHTS, 40 YEAR OLD VIRGIN, INVINCIBLE, all three SPIDERMAN films as well as a recurring role as Dr. Kim Porter on NBC's SCRUBS. She is having a particularly prolific year, having appeared in DEFINITELY, MAYBE and MEET DAVE and next stars as Laura Bush in Oliver Stone's Bush biopic W, opposite Josh Brolin. She then stars in the thriller THE UNINVITED which is scheduled for release on January 30, 2009.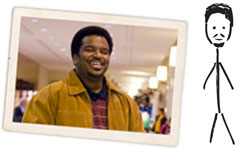 CRAIG ROBINSON (Delaney) is an actor/stand-up comedian, who is best known for playing Darryl Philbin on THE OFFICE. He played a club doorman in KNOCKED UP, Bobby Shad in WALK HARD: THE DEWEY COX STORY, and a bouncer in a music video for the Red Hot Chili Peppers song, "Hump de Bump," in which he denies Chris Rock entry to the club. He has had character stints on ARRESTED DEVELOPMENT, CURB YOUR ENTHUSIASM, THE BERNIE MAC SHOW and FRIENDS. He was recently seen as Matheson in PINEAPPLE EXPRESS, which Seth Rogen wrote and co-stars in.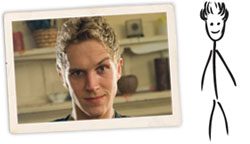 JASON MEWES (Lester) is best known as social misfit/drug dealer Jay, of "Jay and Silent Bob" in CLERKS, which hit theaters in 1994, and instantly become a hit, putting director Smith on the map as well. Everyone loved Jay because even though he talks the big game about sex, he never gets it. Five movies followed, including MALLRATS, CHASING AMY, DOGMA, JAY AND SILENT BOB STRIKE BACK and CLERKS II. The 33-year-old Highlands, NJ native is slated to appear in several new film projects including THE GREEN HORNET.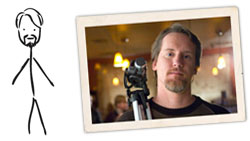 Jeff Anderson (Deacon) has worked with director Kevin Smith since the beginning playing the role of Randal in Smith's debut "CLERKS." He worked again with Smith in "Clerks II," "Dogma" and the animated television series "Clerks." He also received a nomination for "Best Male Performance" at the Chicago Film Festival for his role in "Love 101" and has been seen in Peter Bergstrom's "Something Cool" and in "Rennie's Landing." He made his directorial debut with the film "Now You Know," which Anderson also wrote.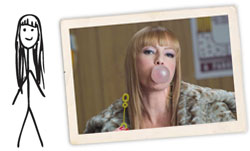 TRACI LORDS (Bubbles) is a true American pop icon. A former porn star by the age of 18 and the only adult star to cross over to mainstream success with such films as CRYBABY and BLADE, she has guest starred on shows like WILL & GRACE, GILMORE GILRS, and MELROSE PLACE and been a series regular on NBC's PROFILER and SciFi's FIRST WAVE. Her techno album "1000 Fires" topped the Billboard dance charts and her bestselling autobiography Traci Lords Underneath it All was published by HarperCollins. ĘThe happily married new mom will next be seen in I HOPE THEY SERVE BEER IN HELL.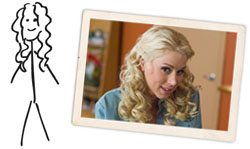 KATIE MORGAN (Stacey) is best known for her HBO late night specials, called PORN 101. The adult film star has done some TV work and movies acting, in flicks like SUNSET, BOBBY DAZZLER, PRISONERS and SKYWALKERS, all of which went straight to DVD. This is her first actual, official, mainstream movie. The Smith team contacted her through her website and asked her if she wanted to be in the movie. "I happened to be in L.A., and the stars aligned and that's how it goes I guess," says the 28-year-old LA native, who has starred in over 200 adult films. Morgan has shot for all the major adult studios, including Club Jenna, Hustler, Penthouse and Playboy.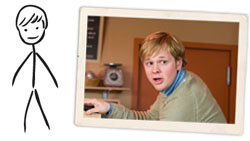 RICKY MABE (Barry) is the newest teen heartthrob that girl fans have been pasting into their High School lockers. The 24-year-old Canadian born actor made his acting debut at the age of 12 in the movie, FRANKENSTEIN AND ME, alongside Burt Reynolds. He eventually landed roles in NIGHTMARE MAN, PHANTOM OF THE MEGAPLEX, BELIEVE, TRAILER PARK OF TERROR and STICKS & STONES WILL BREAK MY HEART. He also starred as Gideon on the TV series, BEAUTIFUL PEOPLE, in the mini-series KILLER WAVE and in six episodes of LASSIE.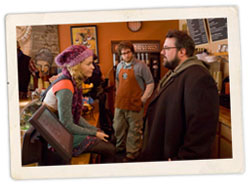 KEVIN SMITH (Director/Writer/Editor) made his first film, CLERKS, for $27,575, in a New Jersey back in 1994. Since then, the 38-year-old screenwriter/director/actor has made CLERKS, CLERKS II, MALLRATS, CHASING AMY, JERSEY GIRL, JAY AND SILENT BOB STRIKE BACK and DOGMA. He is currently preparing a horror film, entitled RED STATE, and an untitled comic book/sci-fi movie. Smith is also a comic book writer, having written eight issues of "Daredevil" for Marvel Comics, as well as 15-issues of "Green Arrow," for DC Comics, amongst others. He's released two lecture tour DVDs entitled AN EVENING WITH KEVIN SMITH and remains very active with his multiple Internet sites. Last year he also released a memoir/diary, entitled "My Boring Ass Life: The Uncomfortably Candid Diary of Kevin Smith."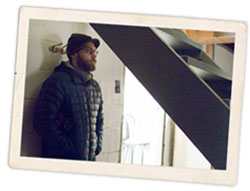 SCOTT MOSIER (Producer) has produced, story-boarded, and co-edited, most all of the View Askew Universe's motion picture projects beginning in 1994 with writer-director Kevin Smith's CLERKS, the first of Smith's seven features to date. Mosier and Smith are partners in their View Askew production banner.
The films Mosier has produced for Smith include CLERKS, MALLRATS, CHASING AMY, DOGMA, JAY AND SILENT BOB STRIKE BACK, JERSEY GIRL and CLERKS II. Mosier also co-executive produced, with Smith, the Academy Award winning film GOOD WILL HUNTING.
Additionally Mosier produced documentary filmmaker Steve James' (HOOP DREAMS) REEL PARADISE, a documentary chronicling indie film spiritual guide John Pierson's one-year excursion to the island of Fiji to run the world's most remote movie theater.
Mosier's editing credits include actor James Franco's directorial debut THE APE, the documentary SMALL TOWN GAY BAR, a Sundance and film festival hit; and Smith's CLERKS, CHASING AMY, DOGMA, JAY AND SILENT BOB STRIKE BACK, and JERSEY GIRL.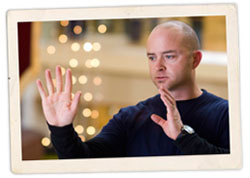 DAVE KLEIN (Director of Photography) is a frequent collaborator with Kevin Smith, having filmed the pilot REAPER and several features including, including CLERKS II, MALLRATS, CHASING AMY and the original CLERKS. Dave has collaborated on three films with James Franco directing. He also recently completed shooting GEMINI DIVISION starring Rosario Dawson, for NBC online. Last year Dave did additional photography on several episodes of PUSHING DAISIES and this season will photograph some 1st Unit episodes. Dave also photographed the pilot and two seasons of STATE OF GRACE for ABC. Aside from his work with Smith, he has photographed 22 feature films.

ROBERT HOLTZMAN (Production Designer) Robert "Ratface" Holtzman has been the production designer for View Askew Films since CHASING AMY in 1996. He has worked on DOGMA, JAY AND SILENT BOB STRIKE BACK, JERSEY GIRL, CLERKS II and now ZACK AND MIRI MAKE A PORNO. When Ratface is not creating backdrops for some of the funniest dick and fart jokes in cinematic history, he can be found living in Philadelphia with his wife, Jenni, and two children, Ava and Ben. He spends his time working on television commercials and shows between trips to the zoo and weekends at the Jersey Shore.

SALVADOR PEREZ (Costume Designer) Salvador Perez's credits include the CBS vampire drama MOONLIGHT and VERONICA MARS, the feature films DRUMLINE, directed by Charles Stone III; the comedy CHASING PAPI, directed by Linda Mendoza; the family film CATCH THAT KID; the comedy MR. 3000, starring Bernie Mac, and the George Tillman Jr. films SOUL FOOD and MEN OF HONOR.
Before becoming a Costume Designer, Salvador worked as an Assistant Costume Designer and Costume Manufacturing Foreman, building costumes for films like STARGATE, THE FLINTSTONES, BARB WIRE, CASPER, THE BRADY BUNCH, ACE VENTURA: WHEN NATURE CALLS, THE PHANTOM and the Oscar¨-winning epic TITANIC.
Perez reunited with Kevin Smith after working with him when he guest starred on VERONICA MARS. Designing the costumes for ZACK AND MIRI MAKE A PORNO was a challenge, as the characters were supposed to be broke. Everything had to be aged down and look well worn. To contrast the grey gloomy city, his costume color palette was bright and colorful. Especially fun was designing all the hand made knit goods that Miri made for herself and Zack.