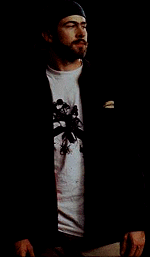 JASON LEE (Banky), already a well-known name to many young adults familiar with the world of professional skateboarding, is making a smooth transition into feature film acting. Lee made his acting debut in "Mallrats," where he landed the part of the wise-ass-Brodie with his very first audition. He has also starred in the independent films "Drawing Flies," which was produced by Kevin Smith and Scott Mosier and co-stars Jason Mewes, "A Better Place," "Real Art" and "American Couple." He next stars in "Wild About Nothing," another independent film in which he gets the opportunity to display his natural comic abilities.
A native of Southern California, Lee began skateboarding as a hobby at the age of 13. By the time he was 18, he was an accomplished professional, having traveled the world in international competitions. More recently, he and a partner created a line of skateboard products and clothing for their company Stereo Skateboards and Stereo Sounds Clothing.
On the small screen, Jason will be appearing in the HBO feature film "Weapons of Mass Distraction" with Ben Kingsley and Gabriel Byrnes. Also, he will be starring in the up-coming and as-yet-untitled Carsey-Werner sitcom pilot created by Kevin Smith.