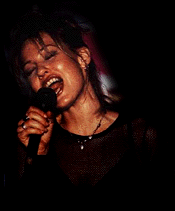 JOEY LAUREN ADAMS (Alyssa) moved to Los Angeles from her native North Little Rock, Arkansas in 1989 and soon established herself on the small screen in such sitcoms as "Top of the Heap," "Vinny and Bobby" and "Married...With Children." She later guest-starred in CBS's "Return to Hip Hop High," "Love and War" and "Double Rush," and landed a recurring role on ABC's "The Second Noah."
Her feature film credits include "Dazed and Confused," "The Program," "The Coneheads," and "S.F.W." In "Sleep With Me" she turned a two-line role into a scene-stealing performance opposite Parker Posey as a duo of friends who disrupt a guys' poker party. Adams also starred in a short film for MTV entitled, "Strange Habit," that played at the 1996 Sundance Film Festival.
Most recently, Adams appeared with fellow CHASING AMY co-star, Jason Lee in director Kevin Smith's "Mallrats," and starred opposite Stephen Baldwin and Pauley Shore in "Bio-Dome." She also appears opposite John Travolta and Andie McDowell in Nora Ephron's "Michael."